At AC Waste Services, our community is integral to the heart and lifeblood of our work.
That's why we've chosen to partner with the amazing team at Together We Stand to help ensure Canada's military families are seen, heard, and appreciated.
What Is The Together We Stand Foundation?
Together We Stand is a non-for-profit, foundation that offers unique programming, services, and support to Canada's brave and resilient military families.
These families serve our country proudly and with enduring resilience – they just do it without the uniform or recognition.
Our Canadian military families make sacrifices so that your family doesn't have to.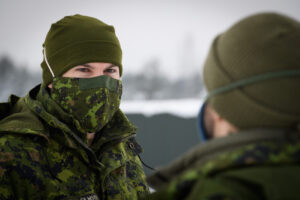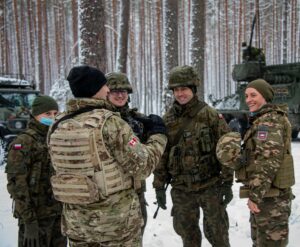 Did You Know?
Multiple deployments, frequent moves, isolation, separation, and fear for the life of their loved ones are just some of the unique challenges that Canada's brave military families face daily.
They do so proudly, with great resiliency, and often without recognition or appreciation.
44% of military spouses reported difficulty finding a family doctor after moving, compared to less than 16% of the general population.
In 2018, more than four in 10 CAF members (43%) reported having some financial problems, with 10% citing this as the most significant problem they faced in the past year
In 2017, two-thirds of military personnel experienced extended periods of time spent away from their family.
52% of CAF spouses reported that their financial situation had become worse, with a change in the cost of living cited as the main reason.
In the mid 1999s, 80% of military families in Canada lived on a base. By the mid-2010s, this had fallen to only 15%.
*Source: The Vanier Institute of the Family "A Snapshot of Military and Veteran Families in Canada" Statistical Snapshots, 2018.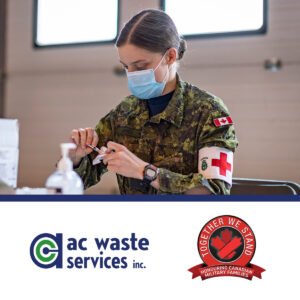 Our Commitment to Military Families In Canada
We have chosen to donate 2.5% of all new sales to Together We Stand in 2022.
That means when you choose to work with AC Waste Services, you'll also be supporting Military Families who need us.
Donate Today
Call or donate today to help TWS continue growing:
Operation Care Package
Operation Military Family Appreciation Day
Other various initiatives aimed at celebrating and supporting our brave military families.
Charitable Registration no.: 777820085 RR 0001