Cancer touches us all in some way. Some of us have personal cancer journeys and others have supported loved ones through their journeys. In 2016, my personal cancer journey started during a routine doctor's visit. I was diagnosed with multiple myeloma. If you are like me, you have never heard of multiple myeloma. After my diagnosis, I learned that multiple myeloma is a form of blood cancer with no cure.
Living With Multiple Myeloma
I was first diagnosed with multiple myeloma during a routine medical visit. At the time I was diagnosed, my myeloma was stable and remained that way until 2018 when it became active. The pain I experienced was so excruciating I don't have anything to compare it to. Multiple myeloma attacks your bones leaving you with holes and fractures. My oncologist found fractures in my spine, ribs, shoulder and collarbone.
During my first year of active multiple myeloma, my treatment included radiation, high-dose chemotherapy and tandem stem cell transplants. These intense treatments helped me eventually get stable. I remained stable until the summer of 2022 when my myeloma became active again. This time I underwent similar treatments, however with the help of my healthcare team and my wife Kristy, I was able to get my myeloma under control in just 5 months.
During my treatments, I have had to take time away from my position as Director of Operations at AC Waste. My team is what makes this possible for me. They step in so clients are supported and there are no disruptions to service. When I was diagnosed we created backup plans so clients never see any disruptions in AC Waste or our services.
Living with multiple myeloma has meant that I continue to undergo regular checkups and treatment as I wait for a cure. Even while stable I require chemotherapy, 3 weeks on and 1 week off to keep the Myeloma from forming. Life is not normal but it is the best life I have and I am truly grateful.
Community Involvement
Despite the lack of attention, multiple myeloma is the second most common form of blood cancer with 11 Canadians diagnosed each day. Bringing awareness to multiple myeloma will help us find new treatments and one day we hope to find a cure.
At AC Waste, it is a priority for us to give back to our community. Last year in 2022 we supported Together We Stand, a non-profit organisation helping military families across Canada. This year, we chose to support Myeloma Canada, a non-profit that I have personally worked with closely throughout my journey. Myeloma Canada supports people living with myeloma, helps educate people about myeloma and supports research.
One of my goals throughout my journey has been to contribute to the research for a cure. In 2019, my wife Kristy Ahola organized the first annual multiple myeloma walk in Newmarket Ontario, where as a community we raised $47,000. This year the annual walk for multiple myeloma will take place on September 24th at Newmarket Riverwalk Commons.
Come out to support us or join us in walking for a cure.
AC Waste Supports Myeloma Canada!
Multiple myeloma continues to have no cure, however, it is through the incredible contributions, awareness and new research that we are able to live longer lives than ever before. We still need more research to discover new therapies and eventually find a cure. This is what inspired us at AC Waste to support Myeloma Canada. This year we will donate 2.5% of new sales to Myeloma Canada to help support people with myeloma and advance research.
My journey with myeloma started in 2016 and it continues today. With myeloma, I have learned that there will be highs and lows however, I am so thankful for my entire support system who have helped me through tough times and stepped in for me when I have had to take time away from AC Waste for my health. My hope for the future is to keep bringing awareness to multiple myeloma and inspire others to help us find a cure.
About the Author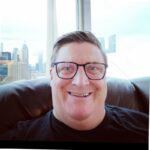 Nic Ahola is the Director of Operations for AC Waste Services over the past 10+ years. With multiple years of experience in the industry Nic's wealth of knowledge to discuss key industry topics is never-ending.
He works directly with businesses to implement waste management systems that are convenient to a business's operations while reducing the unnecessary costs and common problems associated with waste.
Connect with AC Waste and Nic on Linkedin.